The Kelso Public Library is closed to the public.
Curbside reserve and mobile printing pick up service is available Tuesday through Saturday 10am-4pm
We are once again offering new library card sign-ups! 
The service is available by appointment only.  Please call the library during phone assistance hours for more information or to make an appointment. 
We are excited to announce our new mobile printing service! Just visit the website linked below, upload your document, and pick up via curbside! The limit is 10 pages, but there is no charge! Call the library for assistance.
https://www.printeron.net/kpl/kpl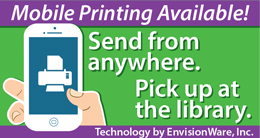 Three Rivers Mall -- 351 Three Rivers Drive, Suite 1263, Kelso, WA 98626
360 423-8110
Hours:
Closed to the public
Phone assistance hours: Tuesday-Saturday 10am-4pm
**Provides eBooks & eAudiobooks.
**Contact the library to activate your account.